#NAPPYHAPPY
If you like quality and value, you'll love our award-winning Mamia range. In fact, our Mums and Dads are so happy with Mamia, we were the most awarded Supermarket at the National Parenting Product Awards 2020 and we have won multiple awards on a wide range of our Mamia products. Yes, everyone likes Mamia. Let's find out why.
Our RangeWe've got your baby and your budget covered for a very long time, from Newborn nappies to nappy pants.

Our TechnologyWho wouldn't like a nappy that keeps their baby fresh and dry for up to 12 hours and is great value for money?

Our AwardsAldi was the most awarded Supermarket at the National Parenting Product Awards 2020, winning an array of awards on our nappies and wipes.

Your MamiaDon't take our word for it, try our amazing Mamia range for yourself.
Our amazing Mamia nappy range
Our nappies have been designed for every stage of your baby's growth, from newborn nappies to nappy pants. Our core and premium range nappies are Skin Health Alliance accredited, dermatologically tested, hypoallergenic and available in a wide range of sizes. So whether your child is rolling, crawling, walking or potty training, they'll be happy doing it in Mamia nappies. And they'll all be #NappyHappy.
Nappy pants for big girls and boys
Our Mamia Ultra Dry Air System™ Nappy pants are available in a wide range of sizes. They are nappy pants with the absorbency of a nappy, a new slim design and 360-degree stretch for free movement. Plus, easy tear away sides for a quick change.
A changing bag essential
Baby wipes are one of those things Mums and Dads just couldn't live without. Choose from our biodegradable, sensitive, fragranced or extra sensitive options. All dermatologically tested and hypoallergenic. Perfect for mild and gentle cleansing and are suitable to be used from birth.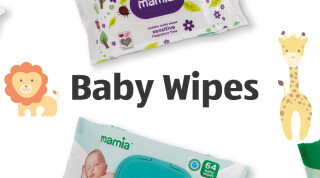 Time to get #NappyHappy
Nothing is going to make your baby happier than being comfy, dry and fresh. And the good news is, Mamia Ultra-Dry Air SystemTM nappies have fast absorption, up to 12 hours' day and night protection and distribute liquid evenly around the nappy to prevent sagging. Watch our video to find out how our technology works to keep you nappy happy.
Just call it Baby Love
It's easy to love your baby with Mamia Ultra-Dry Air System Technology TM . So, they can carry on loving what babies do. To find the perfect nappy for your baby, you can check out our handy size guide below.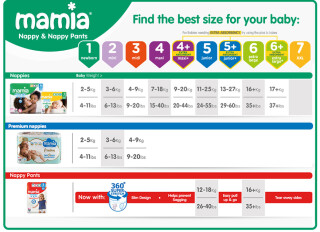 Say hello to our award-winners.
Our Mamia baby range combines amazing results with incredible value. So it's no wonder we've won a bundle of awards on a range of our nappy products. Including Gold, Silver and Bronze in the NPPA awards 2020.