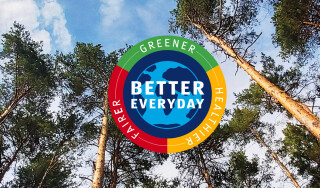 Greener everyday
We're GREENER everyday. From sustainably sourced fish, to green electricity, food waste reductions, planting trees and reducing plastic and packaging, our green thinking is working towards a better environment.
Cutting plastic
Reducing and recycling plastic has never been more important. We know what a negative impact plastic has on the environment, and we know how important it is to our customers. Here's what we're doing to help reduce plastic packaging and waste throughout our supply chain.
We have committed to halving our plastic footprint by 2025, removing more than 200 million pieces of plastic.

We've saved 1132 tonnes of plastic by moving all steaks to cardboard trays, plus 34m pieces of plastic by removing cream lids.

A huge amount of our packaging is recyclable and we're committed to making 100% of our own brand packaging recyclable by 2022.

We are a member of the Global Ghost Gear Initiative (GGGI) which aims to reduce the amount of discarded or lost fishing gear and reduce plastic in the ocean.
Giving something back
At Aldi, we believe in giving something back and we are proud to support our partners FoodCloud.