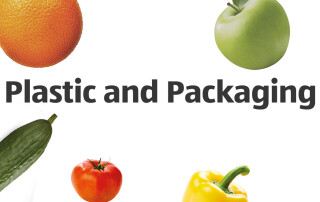 How we're tackling packaging and plastic waste
Plastic packaging plays an important role in protecting products from damage, making sure that they can be transported easily, and helps reduce waste by preserving food for longer. However, we are aware of the negative impact that plastic has on the environment, and know this is an issue which matters to our customers.
Our Plastic and Packaging Pledges
We are fully committed to reducing and removing unnecessary plastic and packaging from our products, which is why we first introduced our pledges back in March 2018. However, lots has changed since then, so we have made some improvements to our pledges to make them even more ambitious!
Going forward this is what our new pledges will look like and what we are doing to achieve them: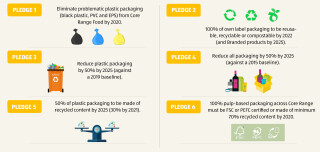 Our progress so far
We are continually working to reduce the amount of plastic and packaging we use, and to ensure that the materials we do use are easy for our customers to recycle.
By working with our suppliers, we have already made many changes to improve our packaging and reduce our plastic usage. Some of these changes include:
Replaced over 820 tonnes of unrecyclable plastic with recyclable alternatives.

Removed 43 tonnes of plastic from our 3L Milk Carton range- the same weight as 43 full grown male cows!

We have moved all fresh herb pots to recyclable pots wrapped in compostable film.
Removed more than 605 tonnes of plastic from our own label products.

We have moved 422,000 non-recyclable polystyrene trays to cardboard in our Specially Selected pizza range.

10 million non-recyclable black plastic trays were removed from our fresh beef, fresh fish and fruit and vegetable lines





We have removed all single-use plastic fruit and vegetable bags and replaced these with a 100% compostable alternative, saving 10 million plastic bags from circulation.






We have removed plastic glitter from our own-brand products, including our Halloween and Christmas range.
Recognition of our work
We were named Ireland's Most Eco-Friendly Company of 2019 at the Checkout National FMCG Awards and were awarded the Corporate Impact Award at the Irish Red Cross Humanitarian Awards 2019. We were also named Green Retailer of the Year at the 2020 Green Awards.
Aldi IE Plastic Percentage
As demonstrated above, we have introduced a number of initiatives to reduce overall packaging, including removing single-use plastic produce bags from store and removing the amount of plastic packaging used for fresh fruit and vegetables.

Our Sustainability teams have been reviewing our entire product range and have taken positive steps to reduce the amount of plastic and packaging we use. Next time you're in store, have a look for these labels on pack!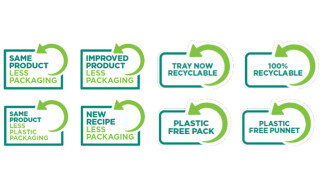 OUR NEW ECO-FRIENDLY BAGS
Aldi is to scrap the use of 12.5 million plastic bags annually with the introduction of three new environmentally friendly bag options across our 141 Irish stores.
Since January 2020, all loose fruit and veg bags in store are 100% compostable. We also stock 100% compostable shopping bags and reusable and recyclable paper bags for life.
Repak
Aldi Ireland has been a member of Repak since 1999. Repak was founded by Irish industry in 1997 to assist its members in meeting their legal obligations to fund the recovery and recycling of packaging associated with their goods and services. Members are charged based on the type and volume of packaging they produce. This principle encourages the reduction of packaging placed on the market, with all funds collected by Repak going towards the recycling of packaging material.
Aldi Ireland have signed up to Repak's Plastic Packaging Pledge. To find out more about Repak's Plastic Packaging Pledge click HERE.