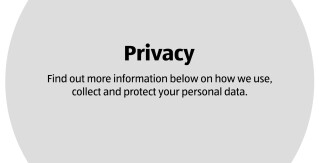 Privacy Notice

ALDI STORES (IRELAND) LIMITED CUSTOMER PRIVACY NOTICE
KEY PRINCIPLES
Your personal data is important. So it's important that there are a range of laws in place to safeguard it (the most important of which is the General Data Protection Regulation or "GDPR"). ALDI is committed to doing its part to protect your personal data and comply with those laws.
In practice, this means that all personal data which we hold about you will be:
Used lawfully, fairly and in a transparent way.
Collected only for valid purposes that we have clearly explained to you and not used in any way that is incompatible with those purposes.
Relevant to the purposes we have told you about and limited only to those purposes.
Accurate and kept up to date.
Kept only as long as necessary for the purposes we have told you about.
Kept securely.
This Privacy Notice is broken down into a number of layers to allow you to more easily find out more about how we use your personal data and the steps we take to protect it.
1. OVERVIEW OF THIS NOTICE AND WHO WE ARE
2. THE DATA WE COLLECT ABOUT YOU
The data we collect about you

"Personal data" means any information about an individual from which that person can be identified. It does not include data where the identity of the person concerned has been removed (which is called "Anonymised Data").

We may collect, use, store and transfer different kinds of personal data about you. This can be broken down into the following categories:

Identity Data includes your name, username or similar identifier, marital status, title, date of birth and gender (this will primarily be text based, but could also include audio, photos, videos and other forms of media).
Contact Data includes billing address, delivery address, email address and telephone numbers.
Financial Data includes bank account and payment card details.
Transaction Data includes details about payments to and from you and other details of products and services you have purchased from us.
Technical Data includes the internet protocol (IP) address of your device, details of the cookies on your device, your login data, browser type and version, time zone setting and location, browser plug-in types and versions, operating system and platform and other technology on the devices you use to access our Site / App.
Profile Data includes your username and password, purchases or orders made by you, your interests, preferences, reviews, feedback and survey responses.
Usage Data includes information about how you use our Site / App, products and services.
Marketing and Communications Data includes your preferences in receiving marketing communications from us and our third-parties and your communication preferences.

We also collect, use and share "Aggregated Data". Aggregated Data may be derived from your personal data but is not considered personal data in law as this data does not reveal your identity. For example, we may aggregate our users' Usage Data to calculate the percentage of those users accessing a specific Site / App feature. However, if we combine or connect Aggregated Data with your personal data so that it can directly or indirectly identify you, we treat the combined data as personal data which will be used in accordance with this Privacy Notice.

We do not collect any "Special Category Data" about you. Special Category Data includes details about your race or ethnicity, religious or philosophical beliefs, sexual orientation, political opinions, trade union membership and information about your health, genetic or biometric data. Nor do we collect any information about criminal convictions and offences.

Close

If you fail to provide personal data

Where we need to collect personal data by law, or under the terms of a contract we have with you, and you fail to provide that data when requested, we may not be able to perform the contract we have or are trying to enter into with you (for example, to inform you about our products or services). In this case, we may have to cancel a service you have with us (but we will notify you if this is the case at the time).

Close
3. HOW WE COLLECT YOUR PERSONAL DATA
We use different methods to collect data from and about you including:
4. HOW WE USE YOUR PERSONAL DATA – GENERAL SITE
How we use your data - General Site

We will only use your personal data when the law allows us to. Most commonly, we will use your personal data where:

we need to perform the contract we are about to enter into or have entered into with you;
it is necessary for our legitimate interests (or those of a third-party) and your interests and fundamental rights do not override those interests;
we need to comply with a legal or regulatory obligation; and/or
you have specifically consented to us using your personal data in a particular way.

Click here for a description of all the ways we plan to use your personal data, and which of the legal bases we rely on to do so. Please note that we may:

process your personal data for more than one lawful ground depending on the specific purpose for which we are using your data;
combine information from other sources with information you give to us and that which we collect about you; and
use this combined information for the purposes set out here.

Close
5. HOW WE USE YOUR PERSONAL DATA – SPECIAL PURPOSES
How we use your data - Special Purposes

We may occasionally require your personal data for additional Special Purposes, such as promotions connected with sporting events and programs. Click here for a description of the ways in which we use your personal data, and which of the legal bases we rely on to do so, in respect of such special purposes. You may have been linked to this portion of this Privacy Notice from another website or app relating to one of these special purposes.

Please note that the rest of this Privacy Notice (whether it is regarding who we are, how to contact us, our complaints procedures or otherwise) will still apply to our handling of your data for these Special Purposes. In the event that there is a conflict between this "Special Purposes" section and the wider Privacy Notice, this "Special Purposes" section will apply.

Close
7. DISCLOSURES OF YOUR PERSONAL DATA
Disclosure of your personal data

First and foremost, you can rest assured that your personal data will not be shared with third-parties unnecessarily. We may disclose your personal data for the purposes set out in this Privacy Notice:

if the possibility of such disclosure is otherwise stated in this Privacy Notice, our Terms of Use, our Terms and Conditions of Sale or otherwise when the personal data is collected from you;
in particular, to the specific third-parties described in the tables in Section 4 (How we use your personal data – General Website) and Section 5 (How we use your personal data – Special Purposes);
to other companies in the ALDI Group (which means our subsidiaries, our ultimate holding company and its subsidiaries, as defined in section 1159 of the UK Companies Act 2006). This includes ALDI Stores Limited, registered in England & Wales under registration number 02321869, whose registered address is Holly Lane, Atherstone, Warwickshire, CV9 2SQ;
to service providers acting as processors or joint controllers who provide us with IT and system administration services;
to professional advisers acting as processors or joint controllers including lawyers, bankers, auditors and insurers who provide us with consultancy, banking, legal, insurance and accounting services;
to the office of the Revenue Commissioners, regulators and other authorities acting as processors or joint controllers who require reporting of processing activities in certain circumstances;
if we are under a duty to disclose or share your personal data in order to comply with any legal obligation or to protect our rights, property, or safety, or the rights, property or safety of our customers, or others. This includes exchanging information with: (a) the police or other investigatory or law enforcement authorities; and (b) companies and organisations involved in fraud protection and credit risk reduction; and/or
to third-parties to whom we may choose to sell, transfer, or merge parts of our business or our assets. Alternatively, we may seek to acquire other businesses or merge with them. If a change happens to our business, then the new owners may use your personal data in the same way as set out in this Privacy Notice.

We require all third-parties to respect the security of your personal data and to treat it in accordance with the law. Unless specifically stated in this Privacy Notice, we do not allow our third-party service providers to use your personal data for their own purposes and only permit them to process your personal data for specified purposes and in accordance with our instructions.

Close

Disclosure of Anonymised Data or Aggregated Data

We may also share Anonymised Data or Aggregated Data to third-parties such as:

our advertisers; and
analytics and search engine providers that assist us in the improvement and optimisation of our Site / App.

This Anonymised Data will be collected using cookies in a way which alone cannot identify any individual.

Close

Third-party marketing

We will never share your personal data with any company outside the ALDI Group (as defined above) for non-ALDI related marketing purposes.

Close
8. INTERNATIONAL TRANSFERS
International Transfers

The data that we collect from you will be stored on secure servers within the European Economic Area ("EEA"). The majority of such data is held within the UK.

Certain information may be accessed and processed by staff operating outside the EEA who work for us or for one of our suppliers. Such staff maybe engaged in, among other things, the fulfilment of your order, the processing of your payment details and the provision of support services (such as content moderation or the maintenance of our data storage facilities).

We may also share your personal data within the ALDI Group (as defined above). This may also involve transferring your data outside the EEA.

Whenever we transfer your personal data out of the EEA, we ensure a similar degree of protection is afforded to it by ensuring at least one of the following safeguards is implemented:

the transfer will be to a country that has been deemed to provide an adequate level of protection for personal data by the European Commission;
we will use specific contracts approved by the European Commission which give personal data the same protection it has in Europe; or
where we use providers based in the US, we may transfer data to them if they are part of the "Privacy Shield" scheme. This scheme requires them to provide similar protection to personal data shared between the Europe and the USA.

Close
9. DATA SECURITY
Data Security

We have put in place appropriate security measures to prevent your personal data from being accidentally lost, used or accessed in an unauthorised way, altered or disclosed. In particular:

we are independently checked each year to confirm that we meet payment card industry data security standards; and
we use 'Transport Layer Security' ("TLS") technology. TLS technology helps prevent you from inadvertently revealing personal details using an unsecured connection.

We have put in place procedures to deal with any suspected personal data breach and will notify you and any applicable regulator of a breach where we are legally required to do so.

Please note that, notwithstanding the steps we take, the transmission of information via the internet can never be completely secure. Although we will do our best to protect your personal data, we cannot guarantee the security of your data transmitted to our Site / App.

Close
10. DATA RETENTION
Data Retention

We will only retain your personal data for as long as necessary to fulfil the purposes we collected it for, including for the purposes of satisfying any legal, accounting, or reporting requirements.

To determine the appropriate retention period for personal data, we consider the amount, nature, and sensitivity of the personal data, the potential risk of harm from unauthorised use or disclosure of your personal data, the purposes for which we process your personal data and whether we can achieve those purposes through other means, and the applicable legal requirements.

By law we have to keep basic information about our customers (including Contact, Identity, Financial and Transaction Data) for six years after they cease being customers for tax purposes. We typically retain this information for a further six to twelve months to ensure that no relevant claim has been made within that six year period before we dispose of it.

In some circumstances we may anonymise your personal data (so that it can no longer be associated with you) for research or statistical purposes in which case we may use this information indefinitely without further notice to you.

Close
Contact Us
You may wish to contact the Data Protection Team in one of the following ways: