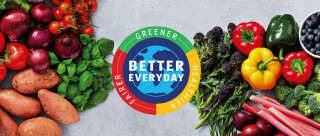 Healthier everyday
We're HEALTHIER everyday by helping our customers achieve their 5-a-day by selling great value fruit and veg. We're constantly reviewing and improving the nutritional value of our products to help our customers shop and live healthy lifestyles. By 2025, we are committed to having 70% of our food sales coming from healthier products.
We take the health of our customers seriously
Getting Active
Healthy habits start young. That's why we have helped to inspire millions of young people through our Aldi Play Rugby initiative. This programme is a fun and safe way for primary school kids to get involved in playing rugby. Get involved today!