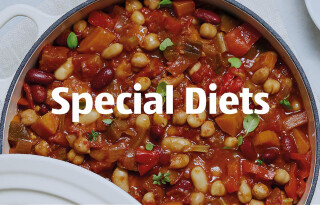 Deliciously good diets to suit your lifestyle
Vegan or vegetarian, gluten, dairy or egg free, having a food intolerance or choosing to eat a particular diet doesn't mean you can't enjoy great-tasting food every single day.
At Aldi, we have a whole range of high quality ingredients that suit a whole range of special diets, so that you never have to compromise on flavour.
Everything from simple grains like quinoa, bulgur wheat and lentils to gluten-free cereals and biscuits. We try and make shopping easier for our customers following alternative diets by using logos and statements on our packaging of suitable products. And to tantalise your free-from taste buds, we've also got lots of great recipe inspiration and plenty of hints and tips just for you.
Eat well. Feel well. Live well.