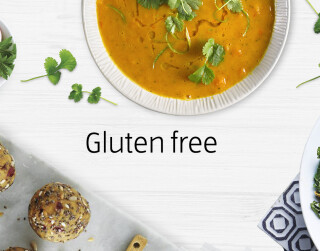 Going gluten free
Gluten is a protein found in a number of grains, including wheat, barley and rye. It is the 'glue' that holds foods together and helps bread to rise. More and more people have started to eliminate gluten or wheat from their diets, whether to try to relieve intestinal troubles or to address other health concerns.
Tips on how to stick to a gluten free diet
Preparation - Make sure there are always gluten free meals and snacks ready. Try out our Chickpea Berry Protein Balls as a delicious snack
Bake - Lots of baked goods include gluten so try our GF flour
Discover - If you want to go gluten free ensure you seek medical advice
Cooking gluten free
It's easy to create delicious gluten free dishes. Visit our online recipe section now and try these tasty suggestions today.