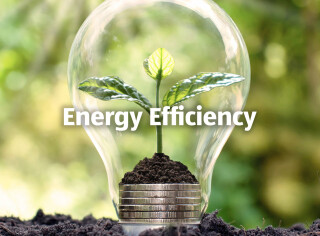 ISO 50001
In 2015, Aldi became only the second supermarket in Ireland to achieve the international energy management accreditation ISO 50001, in recognition of the effectiveness of our energy efficiency system. In 2019, we maintained our certification across all of our stores, RDCs and offices in Ireland. We have worked hard to achieve this and are continually seeking to improve our energy efficiency and environmental impact.
Energy Optimisation Project
From 2017, our Energy Optimisation Project sought to identify opportunities to save energy across our estate by improving lighting, refrigeration, heating, ventilation, air-conditioning and small power.
Energy efficient lighting
It's not only the look and feel of our stores that have been getting an upgrade, but our technology too! All new and refurbished stores will have more efficient LED lighting throughout the sales area, including in chillers and chest freezers. LED lighting uses up to 60% less energy than older traditional lighting.
Click here to see our Energy Policy