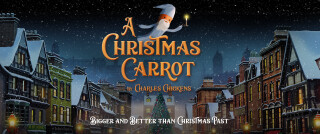 A new Christmas chapter for Kevin!
Take a magical journey with Ebanana and the Spirit of Christmas in our brand-new Kevin the Carrot Christmas advert. There's a feast of familiar faces to spot and some special guest stars too!
The Carrots of Christmas Present
It wouldn't be Christmas without Kevin and his family. Find all the new plush toys in your local Aldi on 25th November along with a brilliant Ebanana.
See something you like?
If you couldn't take your eyes off the screen when Kevin and Ebanana flew over the Christmas feast then take a closer look at our full range here and learn a few cooking tips on your way.
Keep up with the story
Be the first to see all the fun activity that's coming your way this Christmas. Follow, share and like our social channels and you'll never miss a moment.
More to the story…
Keep the Christmas spirit alive with our full festive celebration! See more from our Specialbuys, groceries and favourite Carrot family.