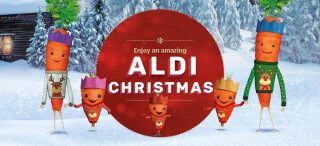 The festive season begins at Aldi
Christmas and New Years have always been a time to celebrate and spoil ourselves with the most amazing food and drinks, like succulent seafood starters and tender Irish turkey, wonderful world-class wines and marvellous mince pies in the afternoon. You'll find all this and so much more in your local Aldi this festive season, all for amazing value too. Start planning your amazing Christmas today!
Finally! Christmas is here!
We love the festive season at Aldi. From amazing gift ideas and useful weekly tips, to Kevin the Carrot's latest adventures, there's so much to discover online and in-store this Christmas!
An amazing Christmas for everyone.
Create the ultimate Christmas at home with Aldi. Everything you need for the festive season, from succulent seafood starters to tender Irish Turkeys and award-winning wines.
Super 6
Get everything you need with our famous Super 6 offers including potatoes to roast and sprouts to boil, with zesty clementines and crunchy carrots, all at great value.