Enjoy this healthy dinner recipe taken from RTE's Operation Transformation
Prawn Pad Thai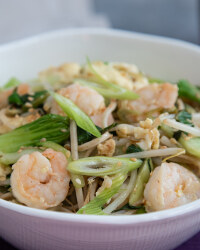 Recipe Information
Ingredients
100g dried wholewheat noodles
3 scallions
270g pak choi
1 garlic clove
small knob fresh root ginger (you need 5g of finely grated)
2 eggs
1 ½ tsp sesame seeds (7.5g)
2 tbsp rapeseed oil (30g)
160g raw tiger prawns
100g fresh beansprouts
1 lime
1 tbsp reduced sodium soy sauce (15g)
Method
Bring a saucepan of water to the boil over a medium heat. Add the noodles and cook for 4-5 minutes until almost tender or according to instructions on the packet. Drain and quickly refresh under cold running water to prevent further cooking.
Trim the scallions and pak choi and then finely shred. Peel and finely grate the garlic and ginger. Break the eggs into a bowl and lightly beat with a fork.
Heat a wok or large frying pan over a medium heat. Add the sesame seeds and toss until lightly golden. Tip on to a plate and set aside.
Add half the oil to the work, then tip in the prawns and most of the scallions, and cook, stirring quickly for 1 minute or until the prawns turn pink.
Push to one side and add the remaining oil. Add the eggs and let it sit for 30 seconds, then scramble until cooked.
Add the cooked noodles with the beansprouts and pak choi and cook for 3 minutes until piping hot and the prawns are tender. Cut the lime in half and squeeze in the juice, then sprinkle over the soy sauce and toasted sesame seeds, tossing until evenly coated.
Divide the prawn pad Thai between plates and scatter over the rest of the scallions to serve.
This can be made in advance and put in an airtight container in the fridge within 2 hours of cooking for up to 2 days. Only reheat once in the microwave or in a saucepan over a gentle heat when ready to eat. It could also be served cold in a lunchbox – just bring a fork to eat.