You can't go wrong with this classic. The perfect Pasta Carbonara.
Pasta Carbonara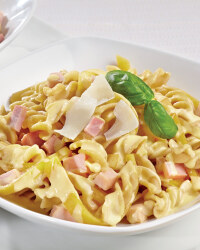 Recipe Information
Ingredients
400g cooked sliced ham, cut into thin cubes
4 egg yolks
120g low fat cream cheese
250ml beef stock
300g wholegrain pasta
4 cloves garlic, crushed
Pinch of black pepper
15ml/1 tbsp olive oil
Grated parmesan for garnish
120g bag of rocket & 150g bag of mixed leaves in one bowl
Method
Add pasta to a saucepan of boiling water and cook according to packet instructions.
While the pasta is boiling, heat the oil in a non-stick pan and add the turnip.
Cover and cook for about 3 minutes.
Add the beef stock and cook until liquid is absorbed, stirring occasionally.
Add the ham and stir.
Add the crushed garlic and stir.
Add the soft cheese and stir into the mixture.
Drain the cooked pasta, add to the sauce mixture and stir well.
Add the egg yolks and stir until everything is smooth and creamy.
Sprinkle with black pepper.
Add the grated parmesan cheese and black pepper.
Stir and serve.