Add some spice to your meal this Spring with this exotic Moroccan dish
Marrakesh Aubergines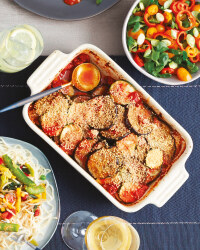 Recipe Information
Ingredients
3 x Aubergines
1 x large Red Onion
1 x large Courgette
3 x cloves Garlic
1 x 400g tin Chopped Tomatoes with Herbs
30ml Olive Oil
1 x tsp ground Cinnamon
1 x tsp Chilli Powder
2 x tsp Paprika
2 x tsp Ground Cumin
1 x Vegetable Stock Cube
1 x tbsp Pesto
300ml Water
Sea Salt and Black Pepper
90g Couscous
100ml Boiling Water
Method
Preheat the oven to 200°C/400f/gas 6
Slice the aubergines to the thickness of a one pound coin, put them onto a baking sheet and grill them on both sides.
Peel and chop the onion into small chunks.
Peel and mince the garlic.
Heat the oil in a medium size saucepan and sauté the onion and garlic on a low light for a couple of minutes.
Grate the courgette and add to the pan along with the tinned tomatoes, chilli, paprika, cumin, cinnamon, pesto, cold water and crumble over the stock cube - seasoning with some salt and black pepper.
Bring to the boil then cook for 5 mins.
Mix the aubergines with the tomato sauce and put into a baking dish.
Mix the couscous with the boiling water and stir – leave a few minutes.
Sprinkle this over the top of the aubergines.
Bake in the oven for 20 minutes.