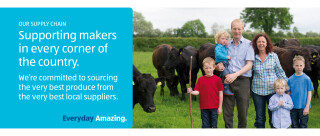 At Aldi we're passionate about what we do
That's why we work with only the best Irish suppliers who are dedicated to producing food for us. Most of all, we're passionate about giving you quality, award-winning food that you can trust. So, when you shop at your local Aldi store, not only do you get delicious food but you are also helping to support local, sustainable suppliers and farmers nationwide.
Bord Bia Quality
The Bord Bia Quality Mark provides independent assurance that the product has been produced to meet BBQAS (Bord Bia Quality Assurance Schemes) standards at every stage of the supply chain – from production to packaging. Wherever the Bord Bia Quality Mark is used on packs, it guarantees that the product is 100% farmed and processed in the Republic of Ireland.
100% of our fresh meat is Irish Bord Bia approved.
We are the only major retailer in Ireland whose entire egg range is 100% Bord Bia Quality approved.