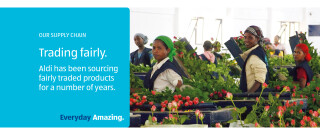 Delivering great value in a
sustainable way
Fairtrade is important to Aldi Ireland as it enables us to deliver great value in a sustainable way. Aldi has been sourcing Fairtrade for over 5 years and as, part of our core grocery range, we offer our customers Fairtrade organic bananas, Fairtrade chocolate, Fairtrade coffee and Fairtrade roses at the very best prices possible.
Aldi's product range is carefully selected and limited to the best quality products at the best possible prices. To pass on cost savings to our customers, we stock fewer product lines than our competitors and avoid selling multiple types of a single product. Therefore, in terms of our entire product portfolio, Fairtrade product lines are significant.
Fresh and fair
The Fairtrade banana is a key growth fruit within our fresh produce category and was responsible for approximately 14% of all bananas sold within our stores last year.
We are extremely proud that we are Ireland's biggest seller of Fairtrade roses, having sold 2 million roses last year. 100% of our high quality Fairtrade roses come from the Sher Project farm, which is the largest flower growing farm in Ethiopia. Funded by the Fairtrade premium, the project is able to provide a school, hospital and leisure facilities for its workforce and their families.