Try these warm rolls filled with cheddar and honey ham. A perfect light lunch.
Honey Baked Torn Ham Rolls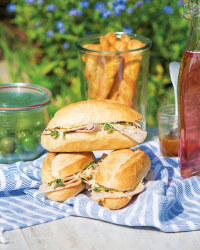 Recipe Information
Ingredients
4 White Rolls, part-baked
4 slices of Honey Baked Torn Ham
About 100g of Cheddar Cheese
2 sprigs of Fresh Thyme
tbsp Honey
Method
Place the rolls on a baking tray and splash with a little water. Bake in the oven according to the packet's instructions. Allow to cool.
Slice the rolls and spread the honey evenly on the bread.
Fill each roll with two slices of ham.
Finely grate the cheddar cheese and add to the rolls.
Pick the leaves from the thyme and add to the roll.
Pack the rolls in baking paper and twine.
Keep in the fridge until you're ready to head off on your picnic.