Cheesy Veggie Wedges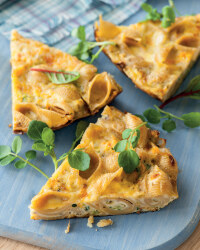 Recipe Information
Ingredients
100g Pasta Shapes
1 tsp Vegetable Oil
1 small Onion, chopped
2 Courgettes, grated
2 Carrots, grated
4 Eggs
50g Reduced Fat Hard Cheese, grated
2 tsp Dried Mixed Herbs
1 pinch Ground Black Pepper
Method
Cook the pasta shapes in boiling water for 10-12 minutes, until just tender. Drain thoroughly and rinse with cold water to cool them quickly.
Heat the vegetable oil in a non-stick frying pan and gently cook the onion for 3-4 minutes, stirring often. Remove from the heat and add the courgettes, carrots and pasta, mixing well.
Beat the eggs and add the cheese. Stir in the dried herbs and season with some pepper. Pour into the frying pan and cook over a low heat for 4-5 minutes, without stirring, to set the base. Meanwhile, pre-heat the grill to medium-high.
Put the frying pan under the grill and cook for 4-5 minutes until the surface has set and is golden brown. Cool completely if serving for a packed lunch. Cut into wedges and wrap in cling film or greaseproof paper and chill until needed.