Crunchy broccoli crisps baked with paprika, cheese and chilli flakes.
Broccoli Chips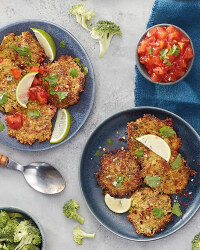 Recipe Information
Ingredients
300g Broccoli
1 Egg
100g Cheddar, grated
2 tbsp Plain Flour
½ tsp Paprika
½ tsp Dried Chilli Flakes
Pinch of Salt
Pinch of Pepper
2 tbsp Olive Oil
To serve
200g Tomato Salsa Dip
2 Baking Trays, lined
Method
Pre-heat the oven to 200°C Fan/Gas Mark 7.
Place the broccoli florets into a blender and pulse until fully broken down.
Pour into a bowl with all the remaining ingredients and mix until well combined.
Place heaped teaspoons of the mixture onto a lined baking tray (should make about 18) and press down to make disks, you will need 2 trays.
Bake for 15 minutes until golden on one side, then flip over and return to the oven for another 10-15 minutes until crisp.
Serve warm with tomato salsa as a dip.