Spicy Mexican flavours combined with fresh vegetables, toasted in a Wholemeal wrap.
Veggie Quesadilla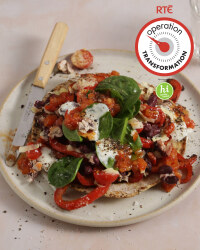 Recipe Information
Ingredients
½ small Red Onion
2 x Red Peppers
1 Garlic Clove
10 x Cherry Tomatoes
45g Cheddar cheese
225g tin Kidney Beans (you need 190g)
1 tbsp Rapeseed Oil (15g)
1 ½ tsp Ground Cumin
2 x Wholemeal Wraps
10g Baby Spinach Leaves
2 x tbsp Salsa (30g)
2 x tsp Natural Yoghurt (3% fat – 10g)
Salt (optional) and freshly ground Black Pepper
Method
Preheat the oven to 200°C/400°F. Peel the red onion and cut into thin slices.
Cut the red peppers in half, then remove the seeds and cores and thinly slice.
Peel and crush the garlic clove to a paste. Cut the cherry tomatoes in half. Grate the cheese on to a plate.
Drain the kidney beans into a sieve in the sink and rinse under cold running water.
Heat a frying pan over a medium to high heat and add the rapeseed oil.
Tip in the onion and peppers and sauté for about 5 minutes until tender and just beginning to pick up a bit of colour.
Stir the garlic with the cumin and cook for another minute, stirring. Season lightly with a little salt (optional) and pepper.
Place the wholemeal wraps on a baking sheet and divide the vegetable mixture between them.
Spoon over the kidney beans and cherry tomatoes. Sprinkle the cheese on top.
Put in the oven for 5 minutes until the cheese is beginning to melt and the bottom of the wraps are crisped up.
Transfer the veggie quesadillas to plates and top with the spinach leaves, salsa and yoghurt. Season with pepper to serve.