Enjoy this healthy breakfast recipe taken from RTE's Operation Transformation
Vegetarian Breakfast Quesadilla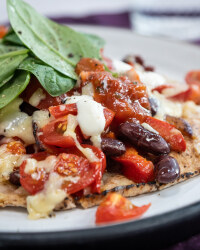 Recipe Information
Ingredients
20g Cheddar Cheese
1 ½ tsp Rapeseed Oil (7.5g)
1 small Wholemeal Wrap
1 tbsp Black Beans, drained and rinsed
Pinch of Paprika
1 small Tomato
1 Egg
3-4 fresh Coriander Leaves
Sea Salt
Black Pepper
Method
Heat a frying pan over a medium heat. Grate the cheese. Add one teaspoon of the oil to the frying pan and swirl it around. Add the wrap and sprinkle the cheese on top. Scatter over the black beans and add the paprika. Cook for 2-3 minutes until the cheese starts to melt and the bottom of the wrap has started to crisp up and is lightly browned.
Meanwhile, dice the tomato. Slide the quesadilla on to a warm plate and scatter over the tomato. Keep warm.
Return the frying pan to the heat and add the remaining half a teaspoon of oil. Crack in the egg and season lightly with salt, if using, and pepper to taste. Fry until the white of the egg has started to harden and turns opaque.
Using a fish slice, put the egg on the quesadilla and tear over the coriander leaves to serve.