Colourful and tasty savoury tart with tomato pesto, courgette, peppers and aubergine.
Vegetable Spiral Tart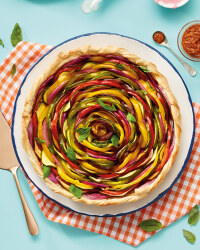 Recipe Information
Ingredients
1 packet Ready Rolled Shortcrust Pastry
100g Sundried Tomato Pesto
2 Red Onions
1 Courgette
1 Red Pepper
1 Green Pepper
1 Yellow Pepper
½ Aubergine
Handful of fresh Basil
20g Parmesan
Method
Preheat the oven to 180C/160C (fan)/gas mark 4.
Line a 22cm loose based tart tin with the ready rolled pastry, setting aside any offcuts.
Prick the base several times with a fork and refrigerate for 30 minutes.
Line the pastry base with a circle of baking paper and fill with baking beans.
Bake in the oven for 8 minutes.
Remove the paper and beans and leave to cool slightly.
Fill the pastry base with the sundried tomato pesto.
Slice the vegetables as thinly as possible.
Starting with the outside edge of the tart, add the vegetable slices, layering until full.
Braid any remaining pastry and stick around the perimeter of the tart to create a decorative crust.
Increase the oven temperature to 200C/180C (fan)/ gas mark 6 and bake the tart for a further 20 minutes.
Top the tart with fresh basil and a grating of Parmesan.
Serve immediately.