Enjoy this healthy dinner recipe taken from RTE's Operation Transformation
Tuscan Pork Stew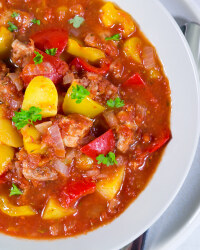 Recipe Information
Ingredients
200g pork tenderloin (well trimmed)
¼ chicken stock cube (reduced salt)
120ml boiling water
400g tin chopped tomatoes
1 tbsp orange marmalade (15g)
1 tsp dried mixed herbs (or use one such as thyme or rosemary – 5g)
1 onion
1 red pepper
1 yellow pepper
300g baby new potatoes
1 tbsp chopped fresh parsley
sea salt and freshly ground black pepper
Method
Preheat the oven to 160C / 325F / gas mark 3. Cut the pork loin into 2.5cm cubes and put in a casserole dish with a lid (or if you don't have one use a small roasting tin lined with parchment paper and tin foil for the lid). Dissolve the chicken stock cube in the boiling water. Add the tomatoes, stock, marmalade and herbs to the pork, stirring to combine. Season lightly with salt, if using and plenty of freshly ground black pepper.
Using a small sharp knife, cut the onion in half and peel off the skin, then roughly chop. Cut the peppers in half and remove and discard the cores and seeds, then cut into 2.5cm pieces. Cut the baby potatoes into quarters. Add all the vegetables to the casserole dish, stirring to combine and cover with a lid. Place in the oven for 1 hour or until the pork is piping hot with no pink meat and the juices run clear.
Divide the Tuscan pork stew among bowls and scatter over the parsley to serve.