Turkey Club Sandwich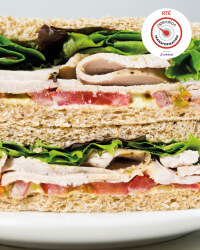 Recipe Information
Ingredients
2 slices of Wholemeal Bread
1 tsp Mayonnaise (5g)
½ tsp Dijon Mustard (2.5g)
1 ripe Tomato
100g cooked Turkey Slices
50g mixed Baby Salad Leaves
Sea Salt and freshly ground Black Pepper
Method
Spread the two slices of bread lightly with the mayonnaise and mustard.
Thinly slice the tomato and arrange on top of one slice.
Season with salt and ground pepper to taste.
Cover with the turkey and top with the baby salad leaves.
Put the other slice on top, slice in half and serve.
Prepare ahead
Once the sandwich is made wrap in greaseproof paper, then tin foil to pack into a suitable container for a lunchbox.