Thai Tuna Stirfry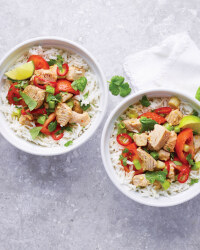 Recipe Information
Ingredients
440g Fresh Tuna Steaks, or 4 x 100g Frozen (thawed), cut into bite sized pieces
2 tbsp Cream Sherry
Juice from a Lime
1 tbsp Runny Honey
Thumb-sized piece Ginger, peeled and grated
2 tbsp Specially Selected Rapeseed Oil
2 Salad Tomatoes, quartered
4 Spring Onions, trimmed and chopped
1 small Red Chilli, seeded and thinly sliced
4 tbsp Fresh Coriander, chopped
1 tbsp Fresh Basil, torn
360g Basmati Rice
Method
Mix together the sherry, lime juice, honey and ginger.
Add the tuna, mix well, cover and refrigerate for approx. 1 hour.
Cook the rice as directed on the pack for 10-11 minutes.
Drain, return to pan and stir in 2 tbsp of the coriander.
Cover pan to retain heat.
Meanwhile, remove the tuna from the marinade (reserve).
Heat the rapeseed oil in a wok or large frying pan and add the tuna.
Cook over a high heat for 2-3 minutes or until cooked to your liking.
Stir in the reserved marinade, tomatoes, spring onions and chilli and stir fry for a couple of minutes.
Add the remaining coriander and the basil.
Serve immediately with the cooked rice.