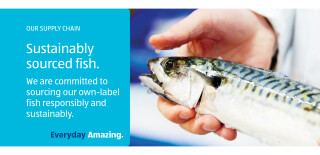 Since 2015 all of our canned tuna has come from responsible sources
Fish stocks around the world are under increasing strain from overfishing. Which is why we're committed to the principles of responsibility and sustainability in the sourcing of our own-label fish. We aim to buy all our seafood products from responsibly managed fisheries and farms that have a minimal impact upon the wider marine environment. Our approach is based on continuous improvement and we want to offer independently certified products wherever possible.
Most importantly, we work with the Sustainable Fisheries Partnership (SFP), a leading non-governmental organisation in the field of sustainable fishing, to act as our independent adviser on fish sustainability. SFP support the implementation of our Fish Buying Policy by rating the sustainability of the fish used in our own-label fish products and providing recommendations to drive continuous improvement.
Labelling
We provide clear and transparent information for our customers by labelling 100% of our fish products with:
• Common and scientific name of the fish species
• Fishing method and fishing area (wild caught fish)
• Production method and country of origin (farmed fish)
Farmed Fish
Certification provides assurance that our farmed fish are sourced responsibly. Our goal is to source 100% of our own-label farmed fish and seafood products from certified farms that meet Aquaculture Stewardship Council (ASC), Global GAP or Global Aquaculture Alliance Best Aquaculture Practice (BAP) two star or above.
Wild caught Fish
We rate the sustainability of our wild caught fish against scientific criteria developed by an independent third-party, Sustainable Fisheries Partnership (SFP), who assign each fishery a red, amber or green rating (green rated means more sustainable). Our aim is to increase the amount of green rated and independently certified fish we sell.
Over a third of our wild caught fish is MSC certified and we are working with our suppliers to increase this further.
In 2016, we launched the first ever supermarket own-label MSC-certified pet food. We also ran a number of trials of new MSC-certified lines, including fresh monkfish.
Tuna
In 2015, we achieved our goal to move all of our canned tuna to responsible sources, a year ahead of our 2016 deadline.
100% of our canned tuna across Aldi UK and Ireland is now caught using either Pole & Line or FAD-free catch methods, to minimise bycatch of other marine animals, such as sharks, rays and sea turtles.
As a result of our position on responsibly caught tuna, we ranked 5th place in the 2015 Greenpeace Tuna league table.
Fishery Improvement Projects (FIPs)
Aldi UK and Ireland works to improve both environmental sustainability and social standards on fishing vessels and throughout production. We work with our suppliers to identify potential Fishery Improvement Projects (FIPs), as well as launching and actively participating in FIPs directly.
Moroccan Sardines
In 2013, the Aldi South Group launched our own FIP in Morocco to improve the sustainability of the sardines used for our canned fish. We are doing this in collaboration with SFP, local government and fisheries.
The project aims to help fisheries along the Moroccan coast to establish sustainable fishery practices, using the MSC criteria as a benchmark.
Asia Reduction Fisheries Supplier Roundtable
The Aldi South Group is also a participant of the Asia Reduction Fisheries Supplier Roundtable, a collection of international brands, manufacturers and retailers committed to improving fishing practices in Southeast Asia.
The roundtable focuses on issues such as improving fisheries management and reducing the impact on the environment. The roundtable also works to eliminate illegal fishing and prevent human rights abuses in the seafood industry.