Super Green Soup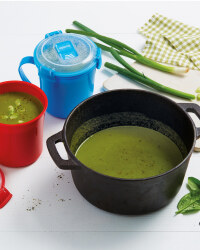 Recipe Information
Ingredients
2 sticks Celery, finely chopped
2 cloves Garlic, peeled and minced
3 Spring Onions, trimmed and finely chopped
240g bag Baby Spinach
400g tin White Kidney Beans, drained
600ml Water
Juice of 2 Lemons
1 flat tsp Ground Cumin
1 flat tsp Turmeric
20g Green Superblend Powder
30ml Olive Oil
Method
Heat the oil in a big saucepan and sauté the onions, celery and garlic for a few minutes on a low heat.
Add the cumin and turmeric and cook for another minute.
Add the water, lemon juice, spinach and the beans.
Bring to the boil, cover and simmer for 10 minutes.
Sprinkle over the powder and stir well.
Liquidise until smooth.
Serve hot or cold.