A delicious and sweet family favourite.
Strawberry Jam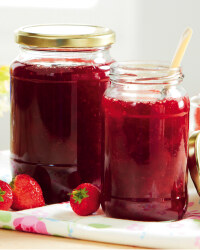 Recipe Information
Ingredients
1kg Strawberries, hulled and washed
850g Caster Sugar
75ml Lemon Juice
1 eating Apple, cut into quarters
Method
Crush the Strawberries with a large fork and put into a Maslin or large heavy bottom pan along with the sugar, lemon juice and the quartered apple.
Slowly heat until the sugar has melted, increase the heat and bring to the boil.
Boil until you reach 105⁰C with a cooking thermometer, if you don't have one then boil the mixture hard for about 15 minutes.
Remove the apple quarters then put the jam into 4 sterilised jars.
If you are going to refrigerate the jam then there is no need to sterilise the jars.
The jam will be soft and spreadable.