Tender and succulent roast lamb, basted in a zesty honey and wine marinade.
Spring Roast Lamb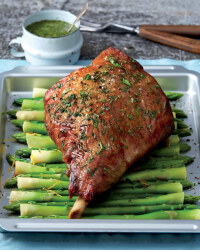 Recipe Information
Ingredients
1 Leg of Lamb (2.2-2.8kg)
60ml Manuka Honey
1 dsp Dijon Mustard
2 sprigs Fresh Rosemary
5g Fresh Parsley, finely chopped
1 Lemon
200ml White Wine
2 Garlic Cloves, peeled and finely minced
3 125g packs Specially Selected Asparagus Tips
Meat Gravy Granules
Sea Salt and Black Pepper
Method
Pre-heat the oven to 220°C/425°F/Gas Mark 7.
Grate the rind from the lemon and then juice.
Mix together in a bowl the garlic, rosemary, wine, honey, mustard, lemon rind and juice – season with some salt and black pepper.
Place the lamb in a roasting tin and rub over the honey and wine mixture.
Roast in the oven for 20 minutes.
Reduce the heat too 180°C and roast for another 70-80 minutes, depending on how pink you like it (baste the lamb frequently during cooking).
Once cooked, remove from the oven, cover with foil and allow to rest for 15-20 minutes.
To make the gravy
Strain away any fat from the roasting pan and use the meat juices when you make your gravy with the Quixo granules.
Cook the asparagus in some boiling salted water for 3-4 minutes, then drain.
Serve the lamb on a bed of asparagus, sprinkled with some chopped parsley, sea salt and black pepper.