The perfect way to start your day with this avocado, spinach, lime and apple smoothie.
Spinach & Avocado Booster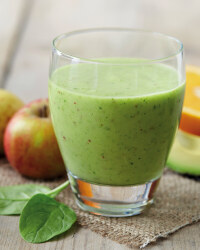 Recipe Information
Ingredients
200g bag of Spinach
1 Apple
½ Avocado
4 tbsp Yogurt
Squeeze of Lime Juice
1 tbsp Chia Seeds
Method
Use a juicer to squeeze all of the energising goodness from the spinach and apple.
Add the flesh from a very soft avocado to your juice and mix until smooth and creamy.
Mix in the yogurt, lime juice and the tablespoon of chia seeds.
Serve with an ice cube and an extra sprinkling of those lovely chia seeds.