This colourful, delicious and super-healthy salad will set you well on your way to 5-a-day.
Spinach, Sweet Potato, Pomegranate & Avocado Salad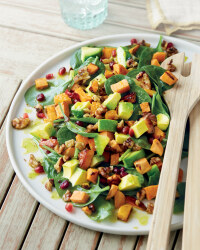 Recipe Information
Ingredients
200g Baby Spinach Leaves
2 Sweet Potatoes
1 pack 2 ripe and ready Avocados
2 ripe and ready Pears
Seeds of 1 Pomegranate
50g Walnut Pieces
Balsamic Vinegar
80ml Olive Oil
2 tbsp Pesto Genovese
Juice ½ Lemon
Juice ½ Orange
Sea Salt
Black Pepper
Method
Pre-heat the oven to 200°C/400°F/ Gas Mark 6.
Peel the sweet potatoes and cut into small chunks.
Place in a baking tray and drizzle with 35ml olive oil, roast for 30 minutes.
To make the dressing, mix the pesto with the lemon and orange juice.
Wash the spinach and dry well.
Peel and remove the stones from the avocados and chop.
Wash the pears, cut into quarters lengthways, remove any seeds and chop.
Mix the avocado chunks, pear chunks and baby spinach together in a bowl and pour over the dressing.
In a bowl mix the remaining 15ml olive oil with the balsamic vinegar and walnuts.
Place on a small baking sheet in the oven for 5-6 minutes.
Toss the hot sweet potato chunks in with the salad.
Sprinkle over the toasted walnuts and pomegranates