Enjoy this healthy vegan dinner recipe taken from RTE's Operation Transformation
Spicy Potato & Chickpea Patties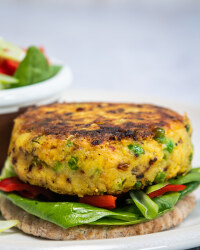 Recipe Information
Ingredients
1 small onion
1 knob of root ginger (you need 1 tbsp finely grated)
6 cherry tomatoes
1 long sweet red pepper
2 scallions
2 tbsp rapeseed oil (30g)
½ tsp dried chilli flakes
½ tsp mild curry powder or paste
½ tsp ground and turmeric
80g frozen peas
200g leftover cooked, peeled potatoes
200g tin chickpeas (or use ½ regular tin – you need 120g)
2 tbsp plain flour (30g)
juice of ½ lemon
2 round pitta breads (50g each)
80g baby spinach leaves
sea salt and freshly ground black pepper
Method
Peel the onion, then cut in half and finely chop. Peel the ginger and then finely grate – you'll need one tablespoon in total. Cut the cherry tomatoes in half. Cut the red pepper in half and remove the seeds and core, then thinly slice. Trim and thinly slice the scallions.
Heat a frying pan over a medium heat. Add half the oil and fry the onion for a few minutes, until softened. Add the ginger and cook for 1 minute, stirring. Stir in the chilli flakes, curry powder or paste, turmeric and peas and cook for another minute or so. Remove from the heat.
If the potatoes are already mashed, just put them into a large bowl. If they are whole, roughly chop them down. Drain the chickpeas and rinse in a sieve in the sink under running water, then dry well with kitchen paper. Roughly chop on a chopping board and add to the potatoes with the onion and pea mixture.
Add half the flour with a squeeze of lemon juice to the potato mixture and season lightly with salt, if using and pepper to taste. Stir well to combine. Divide into two balls, then lightly dust in the rest of the flour and then shape into patties.
Wipe out the frying pan and reheat over a medium heat. Add the rest of oil and cook the patties for 6–8 minutes, until crisp and lightly golden, turning once with a fish slice.
Toast the pitta breads and arrange on plates with the spinach leaves, cherry tomatoes, red pepper and scallions. Put a spicy potato and chickpea patties on each one to serve.