This apple slaw is a great alternative to classic coleslaw.
Spiced Apple Slaw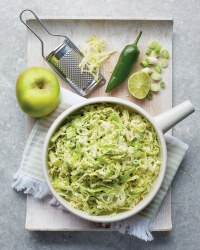 Recipe Information
Ingredients
2 Bramley Apples
1 Savoy Cabbage
5 Spring Onions
1 Green Chilli
2 Limes
100g Mayonnaise
Black Pepper
Method
Remove the outer leaves from the cabbage and the stalk.
Thinly shred the rest.
Trim and wipe the spring onions and thinly slice.
Finely grate the rind from the limes, then juice them.
Put the juice and rind into a large mixing bowl.
Cut the chilli in half lengthways and thinly slice along with the seeds.
Put the slices and seeds in with the lime juice.
Coarsely grate the apples – no need to peel.
Put the grated apple in with the lime juice and toss well to prevent the apples turning brown.
Add the shredded cabbage and the spring onions.
Add the mayonnaise to the mix, season with some black pepper and mix well.
Transfer to a serving dish.