Enjoy this healthy meat-free dinner recipe taken from RTE's Operation Transformation
Spag Bol with Quorn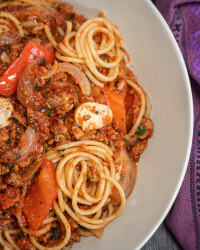 Recipe Information
Ingredients
150g Quorn mince (fresh or frozen)
1 onion
1 red pepper
150g mushrooms (chestnut or ordinary)
1 tbsp rapeseed oil (15g)
½ tsp dried basil
½ tsp dried oregano
½ tsp dried parsley
2 tbsp tomato puree (30g)
¼ vegetable stock cube (reduced salt)
150ml boiling water
400g tin chopped tomatoes
½ tsp reduced sodium soy sauce (2.5g)
100g wholewheat spaghetti
sea salt and freshly ground black pepper
Method
Cut the onion in half and peel off the skin, then finely chop. Cut the pepper in half and remove and discard the core and seeds, then cut into bite-sized pieces. Trim the mushrooms and cut into slices.
Heat a frying pan over a medium heat. Add the oil and swirl up the sides. Tip in the Quorn mince and cook for about 1-2 minutes until lightly browned, breaking up any lumps with a wooden spoon.
Add the vegetables to the Quorn mince, stirring to combine. Season lightly with salt, if using and pepper to taste and cook for another 5-6 minutes until the vegetables have softened.
Sprinkle the herbs over the Quorn mince and vegetable mixture and then stir in the tomato puree and cook for another minute, stirring. Dissolve the stock cube in the boiling water and stir into the pan. Allow to bubble down, then add the tomatoes and soy sauce. Bring to the boil, then reduce the heat and simmer for 5 minutes or until the Quorn mince and vegetables are piping hot and meltingly tender, stirring occasionally with a wooden spoon to ensure it does not stick to the bottom of the pan.
Meanwhile, cook the spaghetti in a large saucepan of boiling water with a pinch of salt, if using and cook for 10-12 minutes or according to packet instructions. Drain in a colander in the sink and return to the pan. Fold in the Quorn Bolognese sauce until evenly combined and then divide among bowls to serve.