A healthy and tasty salad. With fresh beetroot and honey.
Smoked Salmon & Beetroot Salad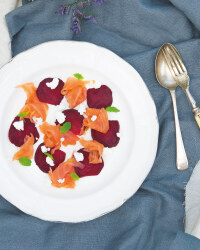 Recipe Information
Ingredients
2 Beetroots, cooked
300g Irish Organic Smoked Salmon
Pack of Soft Goats' Cheese
A handful of fresh Mint
For the dressing:
3 tbsp of Olive Oil tbsp
Red Wine Vinegar
tbsp Squeezy Honey
tsp Salt ½
tsp Pepper
Method
Finely slice the beetroots into thin rounds. Divide and arrange them on six serving plates.
Divide the smoked salmon between the plates, then scatter with some torn pieces of goats' cheese (tearing the cheese with your fingers is fine!).
Combine the dressing ingredients, stirring lightly before drizzling lightly over the salad dishes, before adding a scattering of mint leaves, to serve.