Combine rhubarb and fish for the perfect mix of sweet and savoury this spring.
Smoked Mackerel and Rhubarb Salad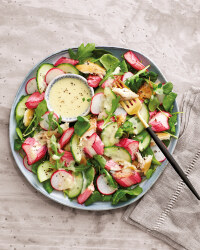 Recipe Information
Ingredients
200g pack Smoked Mackerel Fillets
250g Rhubarb
2 x 80g packs Spinach, Rocket and Watercress Leaves
150g Radish
½ Cucumber
40ml Olive Oil
1 heaped tsp Horseradish Sauce
Juice of 1 Lemon
Black Pepper
Method
Pre-heat the oven to 200°C/400°F/Gas Mark 6.
Wash the rhubarb and cut into chunks, before placing on Baking tray and baking in the oven for 15 minutes.
Peel the skin off the mackerel and tear up the fillets into bite size pieces.
Wash and slice the radish. Halve the cucumber lengthways and cut into slices.
Assemble the salad between 4 plates.
Mix the horseradish sauce, lemon juice and olive oil together, then season with black pepper to taste.
Drizzle over the salad and serve.