Enjoy this healthy breakfast taken from RTE's Operation Transformation.
Scrambled Eggs & Toast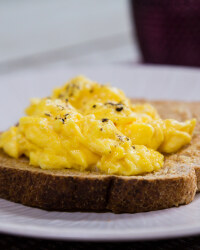 Recipe Information
Ingredients
2 Eggs
1 tbsp Low Fat Milk
1 slice Wholemeal Bread
1 tsp Butter (5g)
Sea Salt
Black Pepper
Method
Heat a saucepan over a medium heat.
Meanwhile, break the eggs into a bowl and add the milk and season with a little salt and pepper to taste. Beat lightly with a fork.
Add the butter to the heated saucepan and swirl it around so that the base and sides are lightly coated with it. Add the egg mixture and, using a wooden spoon, start stirring quickly, making sure that you are getting right into the corners of the pan to prevent it from sticking.
Cook for 1-2 minutes until three-quarters of the egg mixture is firm and a quarter is still liquid. Remove the pan from heat, as they will continue to cook.
Meanwhile, toast the bread and cut in half.
Put the toast on a plate and spoon over the scrambled eggs to serve.