Soft cheese sandwich squares served on a skewer.
Sandwich on a Stick - Vegan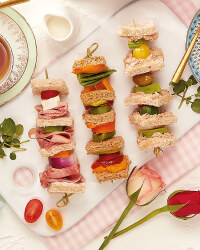 Recipe Information
Ingredients
5 x slices Wholemeal Bread
8 x Marinated Tomato Slices with Garlic and Oregano
80g Red Pepper Houmous
80g Guacamole
1 x Mini Cucumber, cut into 4
2 x Mini Peppers, cut in half
1 x Carrot, peeled and cut into 4 chunks
4 x Mangetout
1 x stick Celery, cut into 4 pieces
4 x Radish
4 x Baby Red Tomatoes
Method
Cut the crusts off the bread slices and cut each slice into 4 squares.
Spread half with the guacamole and the other half with the houmous.
Allowing 2 marinated tomatoes per stick and 5 slices of bread, alternate the rest of the ingredients around them on the sticks.
Other Sandwich on a Stick recipes: