A tasty and moreish salmon pie that will get you lining up for second helpings.
Salmon Pie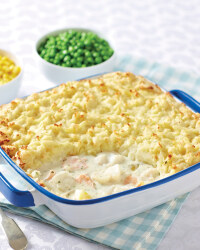 Recipe Information
Ingredients
2 x 240g packs Salmon Fillets
180g Sweetcorn
300ml Creamy Lasagne Sauce
20ml Lemon Juice
2 flat tsp Dried Parsley
1.5kg White Potatoes (Super 6)
100g Butter
100ml Milk
Baking dish, approx. 23cm square
Method
Pre-heat the oven to 200˚C/400˚F/Gas Mark 6.
Peel the potatoes and cut into medium size chunks, boil in some salted water until tender – drain and mash with the butter and milk.
Cut the salmon into chunks, put in the base of the dish, and sprinkle over the drained sweetcorn.
Mix the sauce, parsley and lemon juice together, pour over the salmon, top with the mashed potatoes and cook for 30 minutes until golden brown.