Eat delectable fondue straight from a pumpkin. This recipe doesn't just look good, it tastes great too!
Pumpkin Fondue Cauldron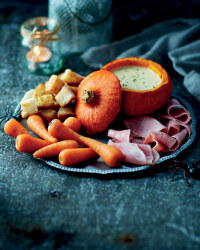 Recipe Information
Ingredients
1 Pumpkin, whole
30g Butter
30g Plain Flour
1 clove Garlic
100ml White Wine
150ml Cream
250g Emmental Cheese, grated
100g Mature Cheddar/Blue Cheese, grated (optional)
1 tbsp Black Pepper
Bread Croutons, chopped Veg, shredded Ham - to dip
Method
Pre-heat the oven 180°C/350°F/Gas Mark 4.
Cut the top off the pumpkin and hollow out the seeds.
Roast in the oven whole for 35 minutes.
While the cauldron is roasting, finely chop the garlic and fry in the bottom of a large pan in the butter.
Add the flour and cook for 2-3 minutes.
Add the white wine and stir until smooth.
Add the double cream and cheeses and season with black pepper.
Reduce the heat to low and stir until the cheese has melted and the mix is gooey and stringy.
When the pumpkin is cooked, scrape some flesh from the edges - be careful to leave a good thick wall.
Add the scraped pumpkin to the cheese.
Serve the cheese inside the roasted pumpkin, with your choice of dippers on the side