Ombré Easter Cake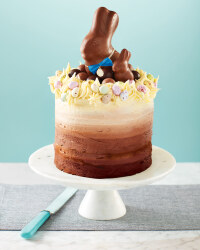 Recipe Information
Ingredients
9 Medium Eggs
510g Caster Sugar
510g Self Raising Flour
510g Unsalted Butter, softened
2 tsp Vanilla Extract
3 tbsp Cocoa Powder
2-3 tbsp Milk, if needed to thin batter
For the buttercream:
1kg The Pantry Icing Sugar
500g Unsalted Butter, softened
1-2 tbsp Milk
3-4 tsp Cocoa Power
To decorate:
Mini Eggs Choceur Truffles
Large Choceur Chocolate Bunny
Small Choceur Chocolate Bunny
Method
Pre-heat the oven to 180°C/350˚F/Gas Mark 5 and grease 3 x 18cm cake tins and line with greaseproof paper.
Using an electric mixer, cream the butter and sugar together until light and fluffy. Then, gradually add the eggs, one at a time, making sure each egg is combined before adding another.
Next, stir in the vanilla extract and then fold the flour into the mix until completely combined. If the cake batter is too thick, add 2-3 tbsp of milk.
Pour 1/3 of the cake mix into one of the sandwich tins. If you want to be precise, you can do this on your scales to ensure there is the same amount in each tin (about 700g).
Add 1 tbsp of cocoa powder into the remaining cake mix and combine. Then pour the next 1/3 into the second cake tin. Next add the final tbsp of cocoa powder to the mix and pour into the final tin.
Bake for about 30-35 minutes, until a cocktail stick comes out clean, then turn the cakes out of the tins and leave until completely cool.
When the cakes have cooled, make the buttercream by beating the butter, icing sugar and milk together using an electric mixer until light, smooth and fluffy.
Begin by placing the chocolate sponge on a cake turntable, place a spoonful of the buttercream on the cake and use a pallet knife to smooth to the edge. Then place the second cake on top, repeat with the buttercream and top with the vanilla cake.
Ensure the cake is level and then place some buttercream on the top and gradually smooth down the sides to cover the cake in a thin coating of the buttercream. Leave the cake in the fridge for half an hour and then you will have a smooth crumb-free surface to decorate.
Place a couple of spoonfuls of the buttercream into 3 small bowls then mix cocoa powder into them to create a range of shades. For example, 2 tsp in the first bowl, 1 tsp in the second and so on.
Then, using a piping bag, pipe a row or two of the darkest frosting around the bottom of the cake followed by the next two shades (this should take you about 2/3 up the cake). Next, pipe the plain buttercream around the rest of the cake and on the top and holding a pallet knife slowly spin the cake using the turntable to smooth the icing together, wiping any excess off the pallet knife to create the ombré effect.
Finally, smooth the top of the cake and then use the remaining buttercream to pipe on the top and decorate with mini eggs and chocolate bunnies.