Enjoy this healthy vegetarian dinner recipe taken from RTE's Operation Transformation
Mushroom and Goat's Cheese Pizza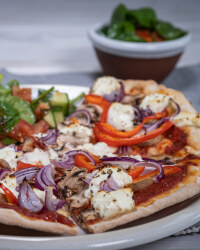 Recipe Information
Ingredients
140g mushrooms (chestnut or ordinary)
1 small red onion
1 small red pepper
1 readymade pizza base
125g fresh goat's cheese
100g pizza sauce
side salad, to serve
Method
Preheat the oven to 200C / 400F / gas mark 6. Trim and thinly slice the mushrooms. Cut the red onion in half, then peel off the skin and thinly slice. Cut the red pepper in half, remove the core and seeds and thinly slice.
Spread the pizza base with the pizza sauce and arrange the mushrooms, red onion and red pepper on top. Crumble over the goat's cheese and place in the oven directly on the oven shelf for 10-12 minutes until piping hot and golden.
Transfer back on to the chopping board and cut into slices. Arrange on plates with the salad to serve.