Lemon and chicken are the perfect pair with this succulent roast chicken dish.
Lemon Chicken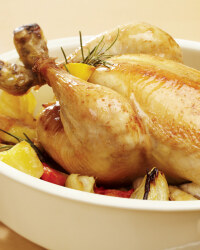 Recipe Information
Ingredients
1 whole chicken (approx 1.2kg)
400g potatoes, peeled and quartered
400g carrots, thickly dice
3 onions, peeled and quartered
1 lemon, quartered
Some freshly ground black pepper
1 tsp salt
4 sprigs of fresh rosemary
1 tbsp butter
Method
Preheat oven to 180ºC.
Lightly oil or butter a casserole dish.
Layer the potatoes, carrots and onions on the bottom of the dish.
Squeeze the juice of one of the lemon quarters over the chicken and place it with the other three quarters and 1 sprig of fresh rosemary into the cavity of the chicken.
Place the stuffed chicken over the layers of vegetables with the remaining rosemary sprigs.
Sprinkle the chicken with salt and pepper and place in the oven for approximately 1 hour to 1 hour 15 minutes.
Before serving check that the meat is fully cooked.
Serve and enjoy.