These tasty skewers are perfect to pop on to the BBQ, or grill. Serve with a refreshing minty yoghurt.
Lamb Skewers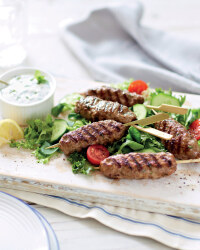 Recipe Information
Ingredients
400g Irish Minced Lamb
1 Clove Garlic, crushed
1 tbsp Freshly Chopped Coriander
3 tbsp Freshly Chopped Mint
½ tsp Ground Cumin
½ tsp Chilli Powder
½ tsp Ground Cinnamon
Freshly Ground Salt and Black Pepper
140ml Low Fat Natural Yoghurt
1 bag Crispy Leaf Salad
8 bamboo skewers
Method
Pre-heat a BBQ, griddle or grill.
Mix together the lamb, garlic, coriander, 1 tbsp mint and spices and season well.
Divide the mixture into 8 and roll each into a sausage shape.
Push a wooden skewer through each and press the mixture onto the skewer.
Cook by your chosen method for around 8–10 minutes, turning occasionally, until cooked through.
Meanwhile, stir the remaining mint into the yoghurt and place in a suitable serving dish.
Serve the cooked lamb skewers with the yoghurt dip and crispy salad.