Want to impress your loved ones or dinner guests. These Hot salmon blinis will be a the star of the show.
Hot Smoked Salmon Blinis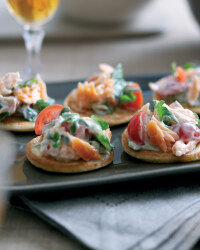 Recipe Information
Ingredients
75g Self-raising Flour
2 pinches Salt
Coarse ground Black Pepper
1 medium Egg
1 tbsp Dijon Mustard
200ml cold Semi-skimmed Milk
Vegetable Oil
125g fillet Hot Smoked Salmon
4-5 tbsp Mayonnaise
4 tbsp roughly chopped Rocket
10 Cherry Tomatoes cut into quarters
Method
Mix the flour, salt, pepper, into a bowl and mix well.
Add the egg, mustard and about ¾ of the milk.
Mix to a smooth batter, this should resemble a very thick cream consistency.
Add a little more milk if the mixture is too thick.
Pre-heat a non-stick frying pan with a couple of teaspoons of oil.
Spoon in the mixture in teaspoon size amounts and cook for 1 minute. Cook for about 3 minutes until the top starts to bubble and is just set.
Flip over carefully and cook for a further 1 minute, then cool.
Break the salmon up in a small bowl. (Don't make the pieces too small, though.) Add the mayonnaise, rocket and finally the tomatoes.
Carefully fold together, so the tomatoes do not break up.
Pile the mixture onto the small blinis and serve.