Step outside the pizza box with this fresh take on pizza. Instead of tomato sauce this recipe uses houmous and a generous serving of Feta cheese.
Greek Houmous Pizza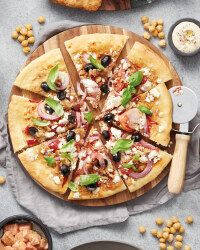 Recipe Information
Ingredients
1 x 385g Ready Rolled Pizza Dough
150g Caramelised Houmous
2 x large Vine Tomatoes
1 x large Red Onion
100g Feta Cheese
40g Walnuts, roughly chopped
1 x 280g jar of Peppers in Oil
15 x Black Olives
1 tsp Paprika
Olive Oil
Fresh Basil Leaves
Method
Pre-heat the oven to 200°C/400F/Gas 6
Drain the peppers and chop. Roll out the pizza dough and put onto a baking sheet. Spread the houmous over the top and sprinkle over the paprika. Add the chopped peppers.
Peel the onion and slice into thin rounds. Slice the tomatoes. Layer the tomatoes and onions on top of the peppers. Crumble over the feta and the walnuts. Dot the olives over the top and bake in the oven for 20 minutes.
Serve drizzled with olive oil and some torn fresh basil leaves.