Fun Halloween snack made with sugar snaps, red peppers and almonds.
Goblin Grins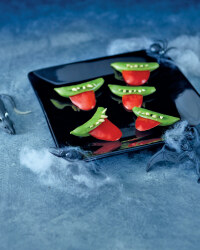 Recipe Information
Ingredients
5 Sugarsnaps
1 Red Pepper
Few slivered almond
Method
For each one, use the tip of a paring knife to cut a slit centered in one side of an edible pea pod (a parent's job).
Cut out a tongue shape from red bell pepper and insert the top of it through the opening in the pea pod (it looks best if the inside of the pepper faces up).
For the finishing touch, insert a few slivered almonds for teeth.