Enjoy this healthy salad recipe taken from RTE's Operation Transformation
Goat's Cheese & Beetroot Five-Minute Salad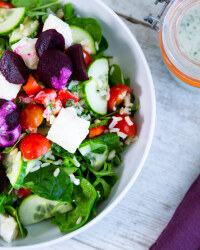 Recipe Information
Ingredients
250g cooked wholegrain rice
1 red pepper
½ cucumber
15 cherry tomatoes
120g baby mixed leaves
100g whole cooked beetroot
100g goat's cheese
2 tsp ranch dressing
sea salt and freshly ground black pepper
Method
If using rice from a pouch cook it in the microwave according to packet instructions and then spread it out on to a tray to ensure it cools quickly. If you are using leftover rice simply run your fingers through it to separate out the grains.
Cut the pepper in half and remove and discard the core and seeds, then cut into dice. Cut the cucumber in half again and cut into half-moon shaped slices. Cut the cherry tomatoes in half and cut the beetroot into small chunks if large or into quarters if baby.
Fold the spinach leaves into the cooled rice with the cucumber and cherry tomatoes. Season with a little salt, if using and pepper to taste and fold in to combine. Divide between bowls, then scatter the beetroot on top and crumble over the goat's cheese. Drizzle with the ranch dressing to serve.