Whip this salad up for a light lunch or a perfect picnic.
Florence Salad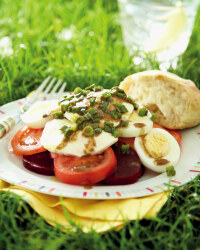 Recipe Information
Ingredients
300g Beetroot (about 4), cooked
4 medium Eggs
1 bunch Spring Onions
200g Mozzarella Cheese
4 Tomatoes
1 heaped tsp Dijon Mustard
1 tbsp Balsamic Vinegar
3 tbsp Virgin Olive Oil
Method
Hard boil the eggs for seven minutes, allow to cool in some cold water while you make the salad. Chop the spring onions and mix with the olive oil. Mix in the vinegar and mustard and whisk well.
Slice the beetroot, tomatoes and Mozzarella cheese. Peel the eggs and slice them. Layer all the sliced ingredients, top with the olive oil spring onion dressing.
Great served with some hot baked Ciabatta rolls.