Enchilada Bake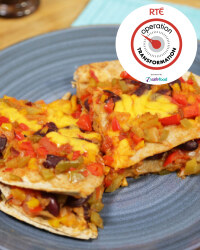 Recipe Information
Ingredients
1 red pepper, deseeded and chopped
1 yellow pepper, deseeded and chopped
1 green pepper, deseeded and chopped
200g chopped tomatoes
1 onion, chopped
1 clove garlic, crushed
½ red chilli, deseeded and chopped
200g kidney beans
3 wholemeal wraps
25g cheddar cheese, grated
Food Staples:
1 ½ teaspoon olive oil
½ teaspoon cumin
½ teaspoon coriander
200mls water
Method
Preheat oven to 180C / 160C / Gas mark 6
Heat oil in a large non stick frying pan and add the chopped onion.
Fry while stirring for a few minutes
Add in the crushed garlic, chilli, cumin and coriander.
Fry together for 1 minute
Stir in the kidney beans and fry for a 3-4 minutes
Add in chopped peppers and cook for 5 minutes
Add the chopped tomatoes and 200mls water.
Cover and simmer together for 20 minutes
In an oven proof dish place 1 wrap, then top with 1/3 of the mixture from the pan
Cover with the next wrap and add another third from the pan
Top with the final wrap and the last 1/3 of the mixture
Sprinkle the top wrap with the grated cheese
Bake the enchilada in oven for 30 minutes until cooked through T
ake dish out of oven, cut and serve