Enjoy this healthy sandwich recipe taken from RTE's Operation Transformation.
Egg Mayonnaise Sandwich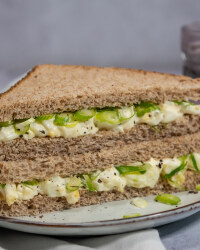 Recipe Information
Ingredients
1 large Egg
1 Scallion
1 tsp Mayonnaise (5g)
1 tsp Greek-style Natural Yoghurt (3% fat)
2 slices Wholemeal Bread
Sea Salt
Black Pepper
Method
Place the egg in a small saucepan covered with water and bring to a simmer, then cook for 10 minutes until hard-boiled.
Meanwhile, trim and thinly slice the scallion. Once the egg is hard-boiled carefully drain it into the sink and run under cold running water until cool enough to handle. Crack off the shell and place in a bowl.
Mash the egg with a fork and then season lightly with salt and plenty of freshly ground black pepper. Mix in the mayonnaise and yoghurt and spread on to one of the pieces of bread. Scatter over the scallion and then cut in half on the diagonal.
Either arrange on a plate to serve or wrap in greaseproof paper and tin foil to pack into a suitable container for a lunchbox.